Court filings for cannabis offenses dropped by 98 percent the year after cannabis legalization, according to a report recently released by the Drug Policy Alliance.
In 2011, there were 6,879 cannabis-related court filings in Washington State. In 2013, the first full year after legalization, there were a mere 120 court filings for cannabis offenses.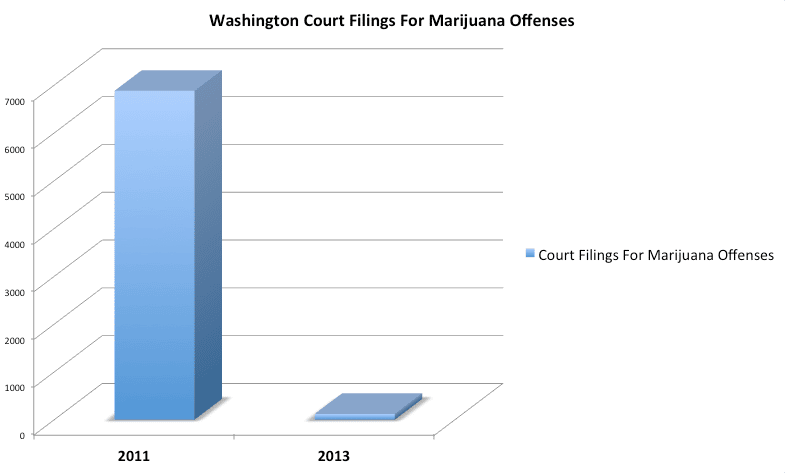 Cannabis legalization in Washington has forced officers to make dramatic changes in how they approach suspected cannabis users.
In September, NPR interviewed 11-year Washington State Patrol sergeant Nate Hovinghoff to ask him on how he has had to adjust his behavior.
"Prior to legalization in Washington state, odor alone was enough to arrest," Sergeant Hovinghoff told NPR. "In my experience as a trooper, probably 90 percent of my felony arrests, they started with the odor of marijuana."
"Now when I stop a vehicle and I go up and I smell marijuana, if they're 21 years or over it doesn't mean automatically a crime's occurred," Sergeant Hovinghoff said.
He added that when approaching a vehicle if its operated by a unimpaired, law-abiding driver, it's simply, "Have a nice day."
The dramatic drop of cannabis arrests have also resulted to a significant cost savings. Between the year 2000 and 2010 Washington State spent $200 million to enforce cannabis prohibition.
The American Civil Liberties Union reported that while Washington State is saving about $20 million every year on prosecuting cannabis-related charges, an estimated $20 million in legal pot sales were generated in the first three months after legalization.
In addition, the Drug Policy Alliance report cited how conservative cannabis revenue estimates were extraordinarily beaten the first few years after legalization.
"Revenue analysts predicted the taxation of marijuana in Washington would bring in $162 million annually for the first two years. In its first fiscal year (July 1, 2014, to June 30, 2015), Washington collected almost $65 million in excise taxes, $11.5 million in retail sales tax, and $1.4 million in business and occupation tax for a total of nearly $78 million. In its second fiscal year (July 1, 2015 to June 30, 2016) the state collected $186 million in excise taxes, $30 million in retail sales tax, and $4 million in business and occupations tax for a total of $220 million."
The state uses this tax revenue to pay for programs designed to prevent and treat drug abuse, provide community health care assistance, and to conduct formal studies evaluating the results of cannabis legalization.
[mc4wp_form id="20346"]