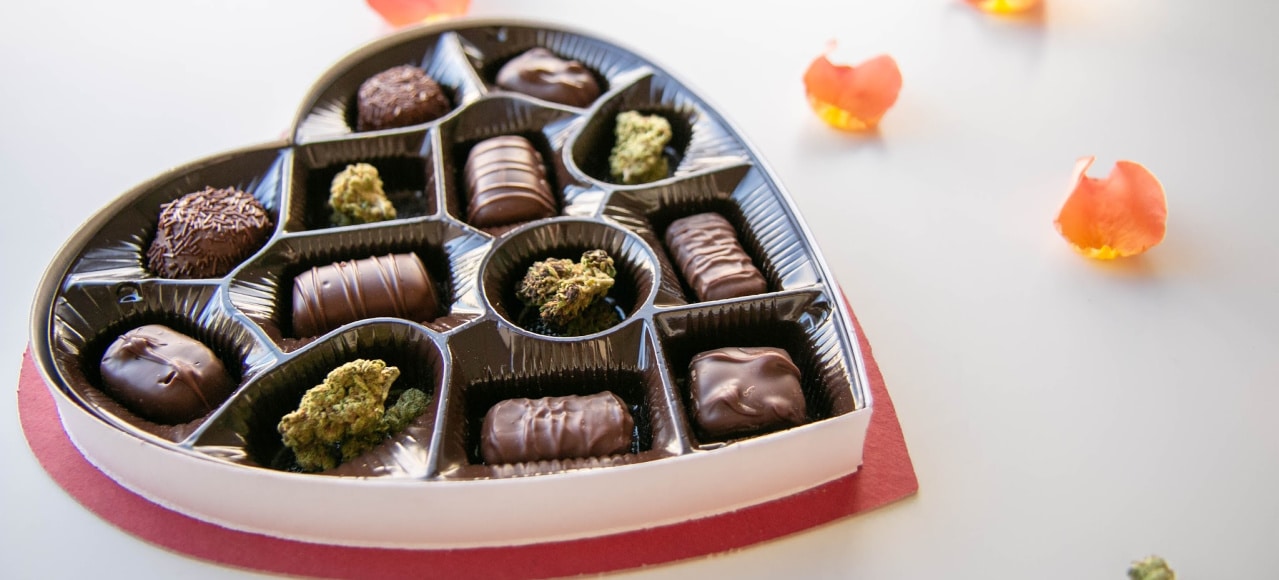 We don't think you need an excuse to indulge in cannabis-infused chocolate edibles, but Valentine's Day is definitely the time to try one! Dozens of local chocolatiers are creating fantastically rich, luscious chocolates. And with dozens of options ranging from dark to light, high-THC to high-CBD and everything in-between, we're pretty sure you'll find just the right fit. Whether it's the subtle energizing buzz of a CBD-only concoction or the relaxing, sensual hit of a stronger THC-infused bonbon, we've got just the stuff to make your Valentine's Day one to remember!
Do remember: Chocolate edibles—like any other cannabis-infused edibles—take a little time to take effect. Be sure you wait at least two hours before consuming another cannabis product just to be sure you're not overindulging! Remember, you can always have more cannabis, but you can't have less!….
Favorite Chocolate Edibles for Valentine's Day
Canna Vita: Corner Stones Espresso Chocolate
A fun and flavorful treat from a well-respected name in Washington State cannabis, these dark and rich espresso-flavored chocolates deliver a potent 10mg of pure THC with each piece. Imparting a long-lasting, full-body high (and an unforgettable flavor), these rich little chocolate squares have "sensuality" written all over them….
Evergreen Herbal: "4.20 Bar" Dark Chocolate + Hazelnut Minis
For those of us who like our fun a little nutty, these dark and luxuriant nut-studded squares are just the thing! Packing in 10mg of pure THC extract in each candy, they feature locally grown toasted hazelnuts in premium-quality, Fair Trade-certified gluten-free chocolate.
Honu: 2:1 Milk Chocolate
Rounding out the list with another of our favorite chocolate edibles, these rich and creamy chocolate squares come courtesy of one of the most acclaimed makers of cannabis-infused chocolates. Winner of the 2016 Dope Cup Best Sweet Edible as well as overall Grand Champion in Denver's Rooster Magazine 2019 THC classic, Honu produces classic chocolate candies in a wide variety of flavors. We love these straightforward and utterly satisfying milk chocolates both for their pleasing flavor and the 2:1 CBD to THC ratio each one delivers.
Verdelux BonBombs 1:1 Orange
These delightful dark chocolate ovals are a blend of premium-quality, hand-tempered chocolate, natural essential orange and tangerine extracts, and a balanced blend of THC and CBD. Designed to deliver moderate psychoactivity and all the relaxing, stress-relieving qualities of both major cannabinoids, they're a great choice for settling into some serious snuggles for Valentine's Day.
Willie's Reserve: Annie's Chocolates 10:1
Made from a recipe perfected by Annie Nelson (wife of the singer-songwriter referenced in the brand), these utterly delectable milk chocolates are created using Annie's original low-heat infusion process, yielding a candy that's bursting with rich cannabinoid content and a truly full-spectrum experience. This variety delivers a 10:1 ratio of CBD to THC for very mild psychoactivity but all the anxiety- and pain-fighting benefits of CBD.
Ready to grab some for yourself or someone special? Stop by our Tacoma dispensary to grab some delicious treats or place your order online now!