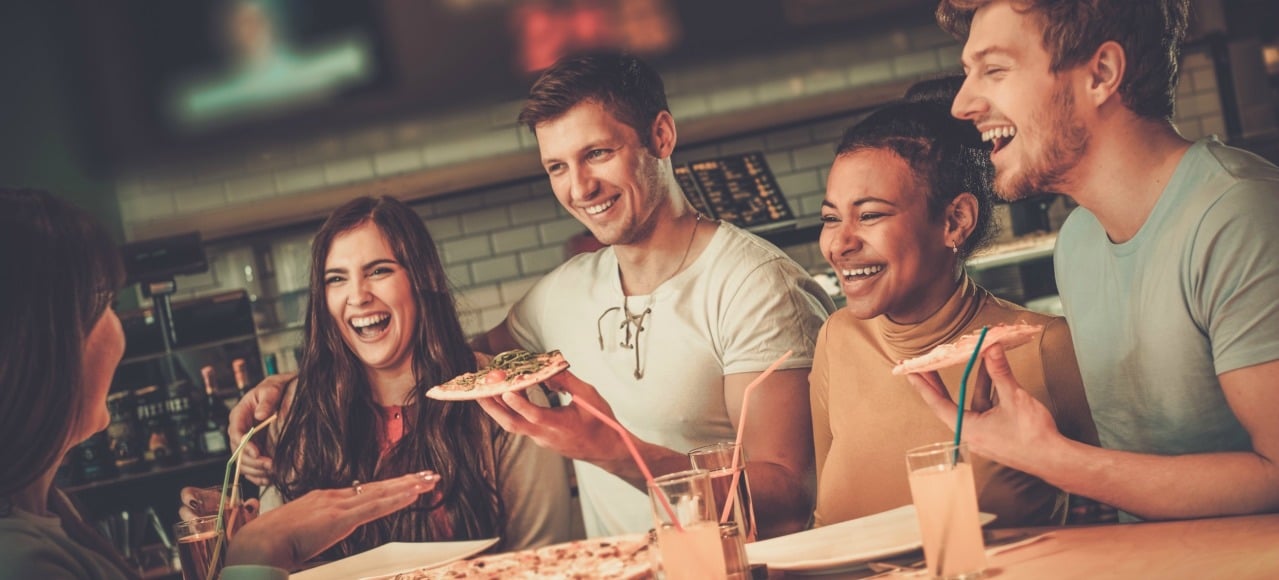 Sure, snacks are great when you're high -- there's little better than raiding the grocery store shelves at 9 P.M. after hitting the dispensary for a night of flavorful sensations. However, if marijuana makes snacking better, it certainly enhances the experience of dining out for cannabis enthusiasts who can maintain their chill in public. Here are five of the tastiest Bremerton restaurants to satisfy your cravings gourmet style.
Noah's Ark
1516 Sixth Street, Bremerton, WA 98337
(360) 377-8100
This well-named local hotspot comes with two animals out front, a gorilla and an elephant -- statues, of course! Noah's Ark offers diner-style food at a budget price and a comfortable atmosphere that makes every customer feel at home. That's because this Bremerton restaurant is family-owned, though don't let its humble origins deceive you. Noah's Ark is consistently rated as one of the highest quality restaurants in its locale.
The menu includes burgers, classic deli sandwiches, fried onion rings, a wide assortment of shakes, and a range of other lunch and dinner options to choose from, making it the perfect stop for just about anyone.
What was once a fun idea for a restaurant opened on a whim in 1974 has become one of the premier destinations in Kitsap County to sit down for an excellent meal. Noah's Ark certainly won't sink your expectations.
Tony's Pizza
4908 Kitsap Way, Bremerton, WA 98312
(360) 479-9117
Everyone loves pizza, but Tony's is in a league of its own when it comes to Washington pizzerias. Offering more than classic toppings like pepperoni and sausage, Tony's has a fantastically expansive menu of pizza possibilities to discern between from a four-cheese feast to their "grande carne" pizza covered in meats. When the body high hits your stomach, there's nowhere else you'll want to be than sidled up next to a Tony's pizza.
After over 50 years in business, Tony's still maintains a reputation for quality that keeps residents of Bremerton loyal and coming back for more. That's why Tony's is one of the most popular Bremerton restaurants, but don't worry -- even though Tony's is in high demand, the prices won't break your bank.
Family Pancake House
4115 Wheaton Way, Bremerton, WA 98310-3624
(360) 479-0788

Breakfast is great, but it's even better after a nicely packed bowl. Family Pancake House, a staple of Bremerton restaurants, offers amazing breakfast ensembles and more at any time of day, making it a go-to destination for those pancakes, eggs, and bacon hankerings we all get from time to time.
Owned and operated as a family business since 1966, Family Pancake House uses fresh, locally-produced ingredients and makes every meal from scratch for your enjoyment. Although 24-hour pancake franchises might seem appealing when you just want some comfort food, Family Pancake House raises the bar on breakfast food in a way you won't want to miss. Pair your breakfast with a nice sativa or hybrid, and your mind will ascend to an unreal realm of tastiness.
El Balcon
326 Pacific Ave, Bremerton, WA 98337-1913
(360) 813-1617
El Balcon is unique in Bremerton, an authentic Latin American restaurant offering both Salvadoran dishes and Mexican staples. Fried yuca and plantains both grace the Salvadoran end of the menu, while a massive menu of burritos and tortas cater to Mexican food enthusiasts.
Few Bremerton restaurants will satisfy your pangs for superb Latin food. In the Kitsap County area, you're unlikely to find a restaurant that can live up to El Balcon's standards, and the entire endeavor is only enhanced by glorious Washington kush.
Boat Shed Restaurant
101 Shore Dr, Bremerton, Washington 98310
(360) 377-2600
Visit Website
Taking advantage of the beautiful Puget Sound scenery, Boat Shed sits on the water, offering its customers both a cornucopia of menu options and a helping view of the marina as the sea air crafts an appetizing environment that arouses the senses.
Choose from fresh seafood, delectable sandwiches, pasta, and much more as you enjoy the sounds of the ocean on the restaurant deck amidst live music from local musicians. Boat Shed is the perfect place to take a group of friends after a kickback at home with a joint or a bowl to deepen your hunger.
Ready to go and explore all of these yummy eats?  Visit Clear Choice in Bremerton first to find out which strains on our comprehensive menu will awaken your appetite and beyond.