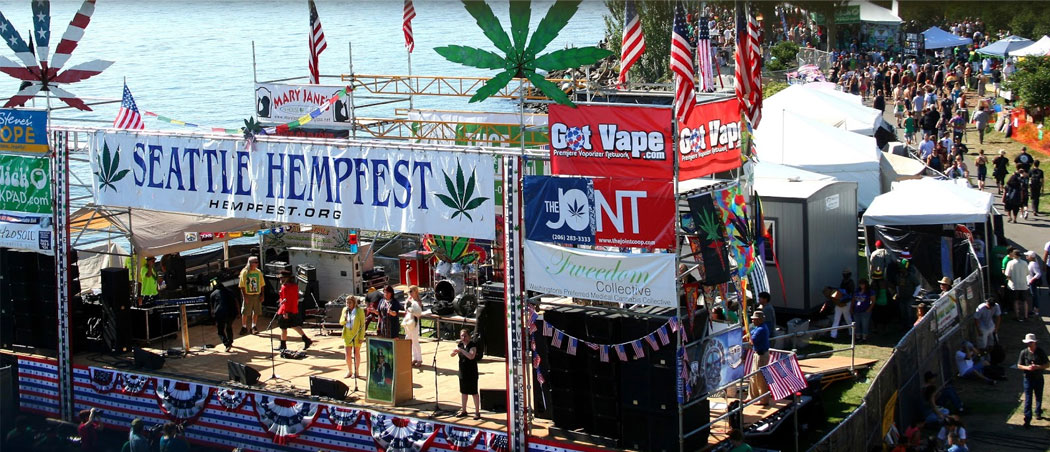 Celebrating its 25th year as the premier flagship event for world cannabis culture, combining cannabis, advocacy and entertainment, HEMPFEST® 2016 could attract record crowds this year. Long described as a "protestival," for its fusion of music, arts and political advocacy, the three-day, waterfront event will feature more than 120 musical acts across six stages, along with dozens of respected and world-renowned guests, including politicians, policy makers, and entertainers. Attendance, by pro-cannabis aficionados and activists, typically approaches 100,000.
A few of this year's speakers include Martin Lee, Amanda Reiman, Dr. Sunil Aggarwal, and Ed Rosenthal. Clear Choice Cannabis is sponsoring a performance by Chief Greenbud, a solo-act considered one of the most recognized musicians in Cannabis culture. In addition, Clear Choice Cannabis will host hip-hop icon Sir Mix-A-Lot at their booth for a "meet and greet," allowing fans to schmooze with the legendary performer.
"We are excited for the opportunity to help the artists reach the local Cannabis community and further spread the knowledge on how amazing and versatile the Cannabis plant is for the world — including medicine, industry, and culture," said Adam Schmidt: "We believe in the value of these type of events, it gets the community involved and you can't ask for much more than that!"
This year's platform will continue calling on the government to — among other things — deschedule cannabis completely off Federal Scheduling & the Controlled Substances Act (particularly relevant after the DEA's most recent announcement); release all non-violent cannabis offenders nationally; expunge records from individuals charged with possession; protect parental rights; provide second amendment equality protections to patients.
Hempfest organizers cite the numerous ways humanity is harmed by the lost potential that medical marijuana and industrial hemp could offer through legal research and development.
Recognizing how important of an event HEMPFEST® is, Adam Schmidt, co-founder of Clear Choice Cannabis, one of Tacoma's most popular recreational dispensaries, is pleased to be a sponsor: "On behalf of the Clear Choice Cannabis community in Tacoma, we're honored to support one of the longest running and most successful pro-cannabis advocacy events in history, Seattle HEMPFEST®." Schmidt continues. "We have no doubt the crowd at Seattle Hempfest will have a great time celebrating our freedom, and we thank HEMPFEST®'s role in promoting both entertainment, and much-needed ongoing advocacy."
Event Details: 
Featuring six stages of music represent a diverse group of acts, 400 arts and crafts exhibits, a rich variety of local and ethnic foods, and advocacy vendors who will provide information on a broad variety of persistent legal and legislative issues impeding research and safe-access to cannabis.
Dates & Times:
HEMPFEST® Protestival runs August 19-21 from 12:oo pm to 8:00 pm.
Chief Greenbud performs Saturday August 20th at 1:00 pm at the Main Stage.
Sir Mix-a-Lot plans to confirm times to appear at the 'meet and greet' as we get closer to the event. Please follow Clear Choice Cannabis on Facebook, Twitter and Instagram, for live scheduling updates.
Address:
955 Alaskan Way W Seattle. Wa 98119
The "protestival" spans nearly 1.5 miles and three waterfront parks including Olympic Sculpture, Myrtle Edwards and Centennial parks.
Donations:
The event is billed as "free admission," but a suggested donation of $10 would be appreciated by organizers. View more details at the HEMPFEST® website: https://www.hempfest.org. You can also help keep the festival going for years to come by supporting the GoFundMe "Keep Seattle HEMPFEST Alive!" campaign set up by organizers.
[mc4wp_form id="20346"]