Cannabis Concentrates: What They Are & How to Use Them
We are blessed with a plethora of options when deciding how to consume our beloved herb. Cannabis concentrates are quickly becoming a favorite, especially with seasoned cannabis enthusiasts. Concentrates appear in many forms, but the essential common thread is that they isolate cannabis trichomes — and their powerful cannabinoids, like THC or CBD.
The Power of Cannabis Concentrates
This isolation means you won't consumer unnecessary plant material and other impurities, which has a few benefits. For one, your pipe or bong will stay clean much longer; and one can only imagine that something similar is happening in the lungs… And, of course, concentrates are going to have a significantly higher percentage of cannabinoids; meaning that you can take much less of it for the same effect.
But when it comes to psychoactive cannabinoids like THC, this can actually cause trouble. It's very common for even veteran enthusiasts to get unpleasantly high on their first concentrate experience. Cannabis concentrates typically range between 50-80% THC, with superb products coming in as high as 90%. For comparison, cannabis flower ranges between 10-25% THC. Be very mindful of this while navigating concentrates for the first time. (And ask our budtenders for help!)
Terpenes can be hard to preserve during the extraction process, so the flavor may not be as enjoyable as flower. However, many companies have started adding terpenes in at the end, so that's an option for a more flavorful concentrate.
Dabbing has become one of the most popular methods how to smoke concentrates, which involves heating a "nail" on a dabbing rig and applying the concentrate to the hot surface. You can also add concentrates to your bowl, joint, or compatible vaporizer.
Types of Concentrates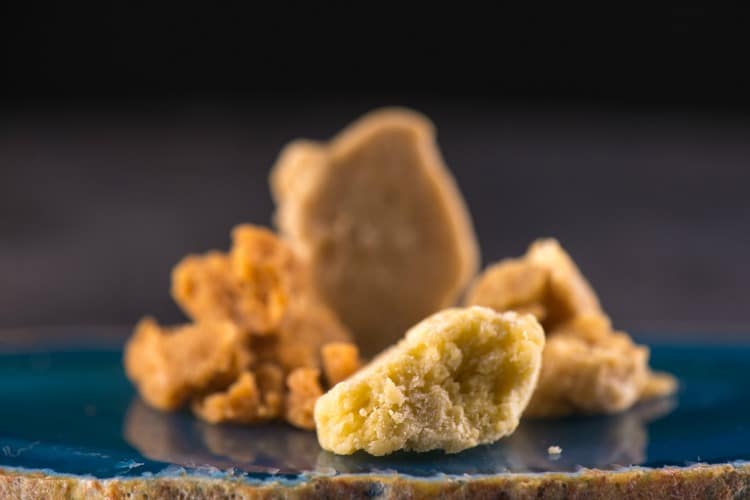 Hashish: Cannabis concentrates are currently experiencing a surge in innovation and popularity, but hash (the OG concentrate) has been around for centuries. It is formed by taking stalked resin glands from the cannabis plant and rubbing them together to remove the trichomes, as well as other similar methods. The result is a sticky brick or ball.
Kief: You already know kief, also referred to as dry sift or pollen. It's the sticky-icky on your fingers after rolling a joint, it's the crystal-like substance at the bottom of your grinder. Kief is usually sifted to separate the trichomes, and like hashish, it frequently contains plant material.
Shatter: This name, and the ones that follow, describe the consistency of modern cannabis concentrates, which are generally free of all impurities. In this case, we're talking about a hard glass-like substance that can also resemble pulled taffy.
Budder/Batter: These two are soft in consistency, making them great for spreading onto joints or blunts. Budder has a consistency similar to butter, and batter the consistency of cake batter.
Crumble: Indeed crumbly in texture, this concentrate has a honeycomb consistency.
Sugar/Sauce: A concentrate has a consistency similar to wet, sappy sugar is called "sugar." Sauce is a thicker version that has a more uniform and prominent crystalline structure.
Distillate/Oil: As you may have guessed, this refers to a liquid, oily, consistency. Oil is what goes into cannabis cartridges and pre-filled pens, and it also can be found in syringes.
It's an exciting time for cannabis, and the world of concentrates is no exception. Keep your eyes on this ever-changing market for the continued evolution of our cannabis options.
In the market for top-shelf cannabis concentrates in Tacoma, Washington? Stop by our popular Tacoma dispensary for help choosing your new favorite products, or check out our online dispensary menu.