Vendor Spotlight: AiroPro Vaporizers
AiroPro have committed themselves to providing the best oil vaping experience possible. Their meticulously designed vape unit is paired with their exclusive and delicious cartridges to produce a truly innovative and pleasant vaping experience.
Revolutionary Vaping Technology
The AiroPro vaporization system has been specifically designed for maximum convenience and usability. The AiroPro is capable of delivering up to 3 times more vapor per pull than most other vape pens on the market. Moreover, the unit features an effortless draw that does not require as much effort or lung power to operate as most other units.
The AiroPro works with a variety of distillate oil cartridges that have been specially designed for use with the unit. Each cartridge features a secured mouthpiece and septum, intended to minimize the likelihood of leaks and exposure to pets and children. Rather than relying on a traditional coil and wick heating system, AiroPro cartridges utilize ceramic reactor technology that preserves the flavors of the concentrate, while preventing it from burning.
Best of all, the unit's 'plug and play' system lets you switch cartridges within seconds, allowing you to enjoy all of your favorite strains with little effort. To the best of our knowledge, the AiroPro is the only vaporizer to feature a magnetic cartridge system that allows for such quick switching.
Convenience Without Compromise
No buttons. No switches. Just vapor.
To activate the AiroPro, simply inhale and watch the magic happen. The unit emits a light vibration upon inhalation to let you know that it is indeed working, and that it is ready for another pull.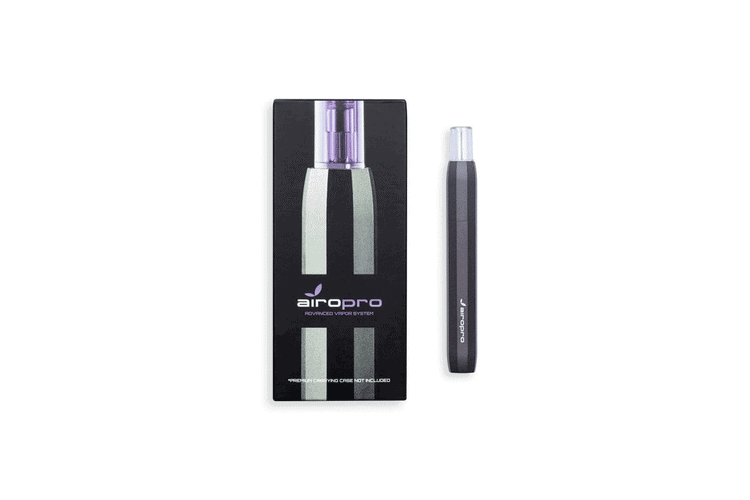 Despite its incredible vapor production, the AiroPro is a sleek, stylish, discreet, and unassuming unit. Because it is quick to use and does not rely on any lights or sounds to function, it can be used more discreetly and privately than most other portable vaporizers. If you are in the market for a heavy hitting portable vape that can be used discreetly on-the-go, there's just no way you can go wrong with the AiroPro.
Which Strains Can The AiroPro Vaporize?
The AiroPro works with a variety of compatible cartridges featuring many popular and unique strains. Here are just a few of our favorites!
Sunset Sherbert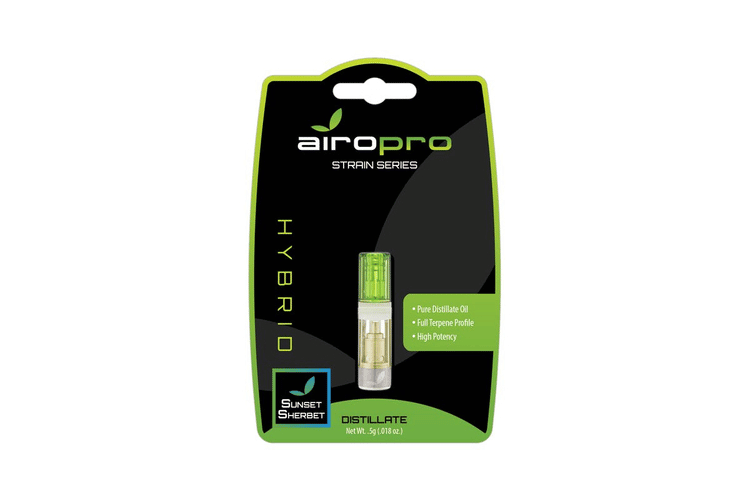 Sunset Sherbert is an 85/15 indica-dominant strain that is derived from infamous parent strains Girl Scout Cookies and Pink Panties. This strain features soaring THC levels that can reach as high as 24% and strong indica properties that produce a heavy and deeply relaxing full-body buzz. Moreover, Sunset Sherbert is a delectable strain that is adored for its tantalizing combination of fruity and skunky flavors.
Northern Lights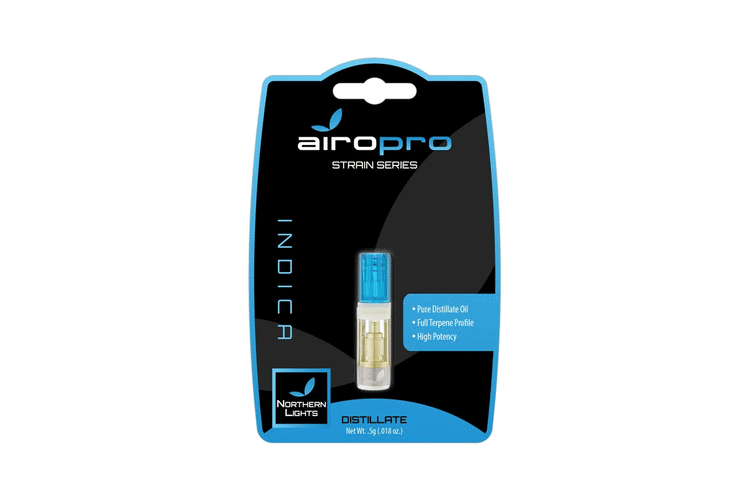 Northern Lights is an award-winning strain that contains nearly pure indica genetics. This strain produces a wonderfully numbing body high that is prized for its therapeutic and pain-relieving effects. This deliciously skunky strain is a great choice for those who prefer quality over quantity.
Green Crush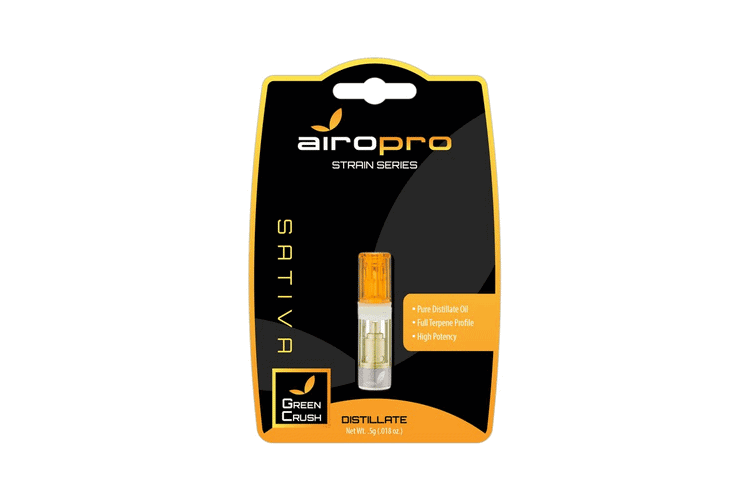 Green Crush is a 100% sativa that is known for having a higher CBD content that most other strains (sometimes reaching as high as 3%). This strain produces an intensely euphoric head high that leaves most people feeling more uplifted, energized, and creative.
Interested in trying out some of AiroPro's distillate cartridges? Check out our online menu to see what we have in stock today!